SABRE Large Format Trimmer 
Efficiently engineered for one off or volume production, the Sabre-Series 2 offers the same exact cutting capabilities as the Keencut Simplex and is constructed on a robust anodised aluminium baseboard.
The Sabre-Series 2 is designed for use on a bench or attached to the optional stand. Using the lockable castors (included with stand) Sabre-Series 2 can be moved and positioned alongside any wide-format printer. The stand, also available with optional waste catcher and roll feed, makes the  Sabre-Series 2 a versatile cutter with no equal.
A recess integral to the base protects the blade tip when cutting and a cutting mat can be added for cutting textiles. Full-length silicon rubber grip strips in the Sabre-Series 2 base and underside of the cutter bar clamp materials when cutting and provide protection to even the most sensitive surfaces. The self-adjusting hinges give lay-flat cutting on all materials up to 13mm (0.5") in thickness.
The blades cut to a depth of 13mm (0.5") and the patented linear bearings have been tested under load for 1600km (1000 miles)
VERTICAL CUTTING ACTION
Engage all blades on the Vertical Cutting Head using downward hand pressure
Patented space age bearing and slide system designed for operator adjustment and minimal maintenance
GRAPHIK BLADE HOLDER INCLUDED AS STANDARD
Accepts Keencut Graphik Blades designed specifically for the Signmaker and Digital Printer:
Specially designed knife edge for extra stability in tougher materials
Extend cutting depth up to 13mm
Reversible – Set the blade to cut Left-Right or Right-Left
Increased durability and reduced tip breakage
Hard wearing & Oil-free
ROTARY BLADE HOLDER INCLUDED AS STANDARD
Cold cut textiles and other delicate materials
Ideal for trimming thin strips off banners and posters where a knife blade would be too aggressive
Comes fitted with red blade guard to be engaged when not in use for optimum safety
A cutting mat is required (not supplied) when using the Rotary Blade Holder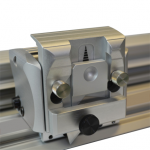 MEDIUM DUTY BLADE HOLDER INCLUDED AS STANDARD
Use standard off-the-shelf utility blades
Adjust to a blade depth of 10mm
Each machine is supplied with a pack of 100 Medium Duty Utility Blades
BLADE DEPTH ADJUSTER
Both the Medium Duty Blade Holder and Graphik Blade Holder feature quick height adjustment sliders
Adjust the blade depth on the Medium Duty blade up to 10mm cutting depth
Adjust the blade depth on the Graphik blade up to 13mm cutting depth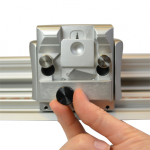 BLADE CLAMP
All blade holders come with a single 'blade clamp knob' for quick adjustment
A quick turn and the blade is unclamped for removal or adjusting cutting depth
INTEGRAL BASEPLATE AND HINGE ARMS
Integral base-plate with metric parallel indents and a cut groove
Self-levelling hinge arms for materials up to 13mm support the slideway to enable user to lift and suspend it off the work-surface when moving or repositioning media
EXTENDED SQUARING ARM – OPTIONAL 
Optional extended squaring arm (91cm – 36") available for improved accuracy and versatility
Order in either metric (cm) or imperial (inches)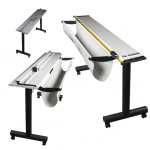 STANDS & STAND PACKS – OPTIONAL
90cm/36″ High and available as a STAND ONLY or as a STAND PACK (includes Waste Catcher & Material Roll Holder)
Fitted with locking castors so can be moved and positioned quickly and easily alongside any wide-format printer or work area
Anodised aluminium construction
Sabre Cutter Will Cut The Following Materials:
Flag, banner, PVC Foamboard, foamcore, cardboard, corrugated plastic, polystyrene, flexible polycarbonate, flexographic plates, flooring tiles, magnetic sheet, film, self-adhesive materials and more
FEATURES & PERFORMANCE
Guaranteed 1:3000 straightness accuracy making the Sabre Series 2 ideal for general purpose cutting applications like roll-up banners and signage
With an integral base included the Sabre Series 2 is designed to sit directly on any bench of equal or greater size or mounted to the optional stand/stand packs
Comes as standard with three different types of Blade Holders: Graphik Blade Holder (1), Medium Duty Blade Holder (1) and the Circular Knife Blade Holder (1) to provide maximum versatility and cutting options
Reverse the Graphik Blades (included) to set the machine to cut Left-Right, Right-Left or both
Using the single tool cutting and included blade holders, switch between cutting different materials in seconds
The new large diameter textile wheel improves performance and longevity – cutting mat will be required
When heat cutting and sealing is required the Keencut Hot Knife Holder sliding head can be quickly attached with the appropriate electric Hot Knife and detached in seconds
Fully equipped and ready to work with blades included
Patented space age bearing and slide system designed for operator adjustment and minimal maintenance
Available in five practical sizes, from 1.0 to 3.0 metres
EASE OF OPERATION & SAFETY
Integral hinge arms support the slideway to enable user to lift and suspend it off the work-surface when moving or repositioning media
Blade locking thumb screw adds safety & convenience
Tools interchange quickly for maximum productivity
Spring loaded blade holders immediately retract when not in use
Multiple integral full length grip cords hold work safe and sure while cutting
Total dust free operation – safe to use near printers and plotters
Circular knife supplied with blade guard to be engaged when not in use
GUARANTEES & CONSTRUCTION
100% manufactured by Keencut Technicians in England
99.98% of materials from the best suppliers in Western Europe
High tensile aerospace aluminium alloy construction
Super grade anodising for lifetime good looks and function
Designed specifically for the design & display industries
For further information & price estimates