Industrial Grade Vacuum Forming on Your Desktop
The FormBox can pick up even the finest details of your design. Bring the power of the factory to your desktop today.
1000W Ceramic Heater
High air-flow steel mesh
Pressed steel forming trays
Accelerate Your Making
No more waiting. Speed up your process and see your products come alive. The Mayku FormBox is a simple, quick solution to developing your creations.
Small Package, Big Power
The FormBox has been crafted to fit perfectly into your workspace. Packing the power to create a factory finish in a matter of minutes.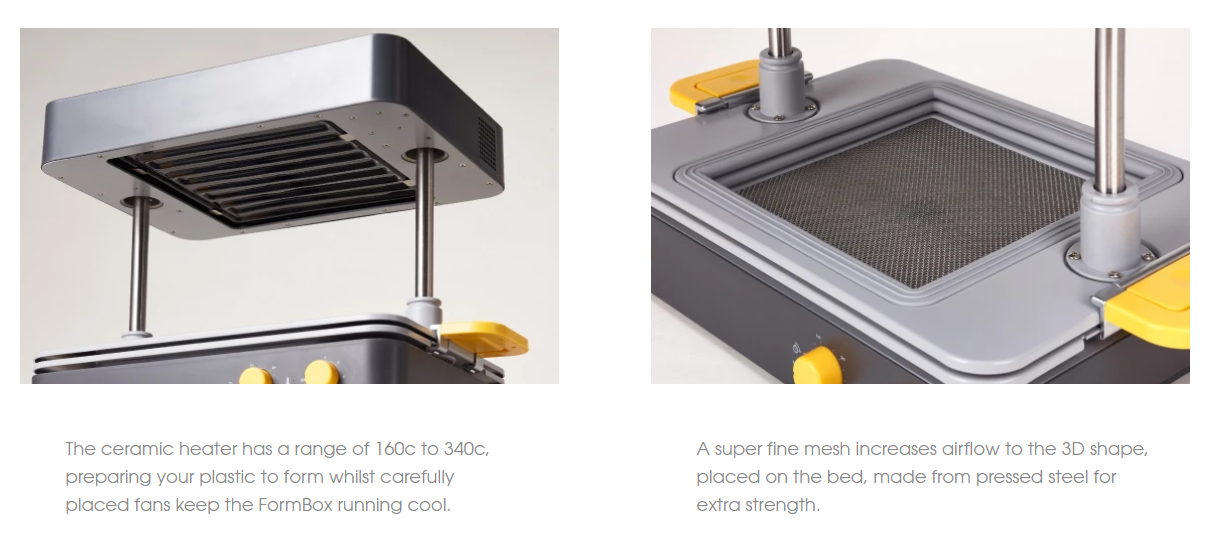 Precision Control
There aren't any mystery buttons or complicated settings. Simple means smart – and with the FormBox it's never been easier to get the exact finish you want.
Simple by Design
We've meticulously designed the FormBox to fit with your life and your ambitions – so you can focus on bringing your next big idea to life
A tray click and handle design, with cast aluminum hinges, in one single mechanism ensures using the FormBox is as easy as possible.
It's all in the Details
The FormBox picks up texture finer than a grain of sand – so you get all those little details you need to stand out from the crowd.