Kala Arkane Large Format Laminator 65″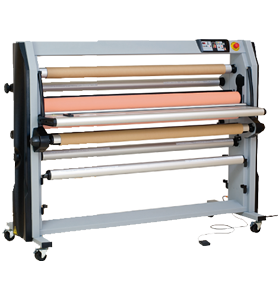 The Kala laminator is 100% Made In France, a high-quality product that is designed to give the user a seamless experience. Key highlights include a heat-assisted system to ensure the right amount of heat is present even when doing cold lamination, a handy foot pedal, mechanised pressure rollers to ensure the exact pressure, easy loading of lamination rolls and so much more! This laminator is specifically designed to be used with UV printed substrates.
The new generation of Arkane laminators offers unbeaten performances at this price level.
• Single side lamination with or without waste paper
• Simultaneous single side lamination and adhesive mounting
• Encapsulation in one run
• Application tape
• Colour background using colour vinyl
• Mounting onto boards up to 50 mm (2'') thickness
• Use of thermal films on one side
Dedicated for application requiring high amount of pressure
There are various applications of the kala laminator
Affixing vinyl printout on foam boards
Roll-To-Roll application
Affixing laminate onto media substrate
Specifically for lamination on UV printouts
ARKANE
Laminator with an upper heated roller up to 140°C (280°F), in a width of 1,65 m (65″). Ideal for the lamination of UV prints soft or rigid media, an application requiring an important level of pressure or for use with a thermal film on one side.
Width : 1.65m (65″) Lamination speed from 0,30cm (1ft) to 6,20m/mn (21ft) Roll take up shaft for laminated documents included.
Single side lamination with cold or thermal films
Simultaneous lamination and adhesive mounting
Encapsulation with cold film in one run
Application tape
Mounting onto boards up to 50mm (2″) thickness
Optional:
Optional Led kit for Arkane to be installed under the upper beam of the laminator. This light enables to check the right process for the lamination. Ideal for a dark spot in the workplace. Controlled by the main switch, it also shows if the machine has been turned off before leaving the workshop. Delivered mounted on the machine if ordered together or compatible with any existing machine.
For further information & price estimates