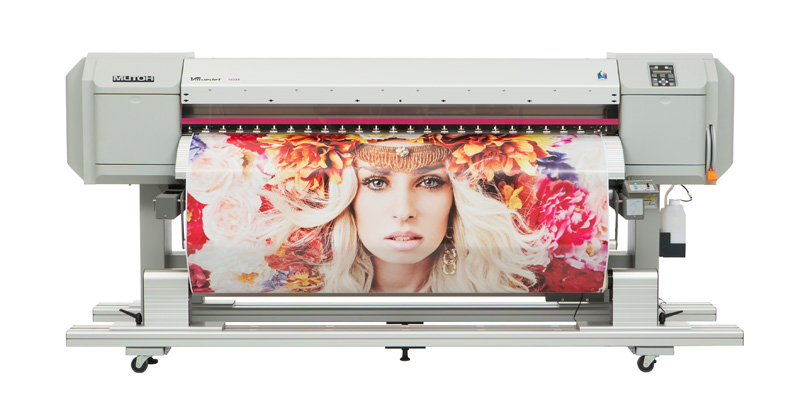 Because only the best is good enough for you, we developed the ValueJet 1624X printer, featuring latest piezo inkjet head technology & high-precision mechanical design, latest generation electronics and high quality inks. ValueJet 1624X is Mutoh's fourth generation 64" (162 cm) wide single head sign & display printer.
In line with our core philosophy to deliver products with technology proven to be faster, more reliable, more cost effective and more efficient, we incorporated our pioneering print automation technology into the VJ-1624X wide format printer to bring you the best equipment for your application.
The Printer's Heart Beats Quality
A variable drop piezo print head is at the heart of the VJ-1624X's stunning performance. This 1440-nozzle head comprises four colour sections. Each colour section has 360 nozzles, or two 180 nozzle rows per colour. The print head is capable of producing ink drops ranging from 3.5 pl to 35.2 pl.
Bottom line, it can produce a wider range of ink dots, which are moreover jetted at a much faster speed compared to other print heads on the market. The result is faster output speeds and moreover a much better print quality at higher output speeds.
Maximize your Profit with Mutoh's Intelligent Interweaving (i²) Print Technology
The ValueJet 1624X incorporates Mutoh's award-winning Intelligent Interweaving (i²) print technology, enabling a drastic reduction or even total elimination of the typical difficulties inherent to conventional digital inkjet printing, such as horizontal banding, step mismatch banding and the visible effects of missing or misfiring nozzles.
One of the biggest benefits of this proprietary Mutoh print technology is that it offers predictable and repeatable output quality, therefore bringing an unprecedented level of peace of mind to the printer operator. ValueJet printer users will be able to print ideal quality images fit for purpose every time, in the shortest possible time.
Extreme Print Automation with Mutoh DropMaster Technology
Get constant and uncompromised print quality effortlessly on anything you feed into your VJ-1624X, from thin blue back paper to thick pvc banner …, thanks to Mutoh's proprietary DropMaster technology!
Specifically developed for Mutoh's latest generation ValueJet models, DropMaster is a revolutionary print automation technique which eliminates the need for cumbersome and time consuming media dependent head adjustments.
Knowing the media thickness and consequently the drop-throw distance between print head and media surface, DropMaster is capable of automatically recalculating and adjusting the uni/bi-directional fire timings. It does this regardless of resolution and print speed.
Getting the Job Done
The VJ-1624X printer offers you a wide range of print modes and speeds. Here are the most popular ones at which impeccable printing quality can be obtained.
• High Quality – 720 x 1440 dpi: 5 m²/h
• Quality Production – 720 x 1080 dpi: 10 m²/h
• Speed Production – 720 x 720 dpi: 20.5 m²/h
Ready for Volume Production
The ValueJet 1624X printer can handle 2" and 3" rolls. To cope with the higher print speeds and in view of drying efficiency, the machine incorporates a special print platen structure with three individually controlled heating elements. The intelligent heating elements, with integrated anti-cockling feature will tackle media pre-heating, ink fixation and drying of the prints. Incorporating a smart end-of-media-roll feature, the printer comes with a stand with integrated roll holders. Different motorised winding/unwinding systems are available for roll-to-roll production.
It's simply 'job done' with a Mutoh ValueJet!
Targeted at the sign & display market, the Mutoh ValueJet 1624X high speed, high quality printer will address the needs of sign makers & commercial printers focusing on volume production of outdoor prints.
The 1624X printer is suited for the production of long-term outdoor posters, signs and banners, backlit signage, POS displays, vehicle graphics as well as high quality durable prints for indoor use.
Fast Return on Investment
Rapid return on investment is available to beginners as well as skilled operators. The combination of affordable pricing, ease of use with consistent high quality output, hardly any periodic maintenance required, flexibility for switching quickly between print jobs and low ink consumption (average 8 ml/m² on uncoated PVC) means the ValueJet 1624X will swiftly turn investment into profit.
Print & Cut – It takes two!
Boost your print-to-cut productivity with the combo of Mutoh's ValueJet printer & ValueCut cutting plotter. Print and cut simultaneously by running your printer in tandem with a Mutoh multi-purpose ValueCut cutter.
The user-friendly ValueCut cutting plotter is ready to tackle all your lettering and contour cutting applications such as stickers, short-run decals, window signs and much more.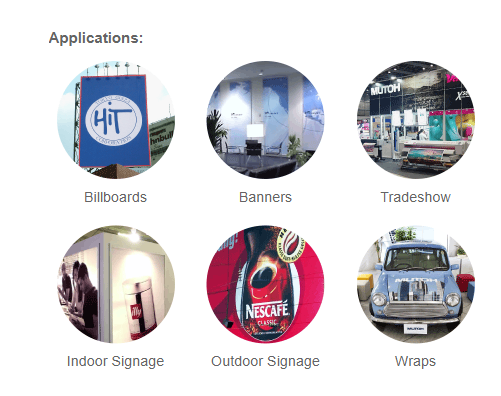 ValueJet 1624X – Technical Key Specifications
Print Technology – Drop-on-demand Micro Piezo Inkjet Technology
Print Head – 1
Nozzle Configuration – 180 nozzles x 8 lines
Drop Mass Range (pl) – 3.5 to 35.2
Head Heights – Low: 1.5 mm / High: 2.5 mm
ValueJet 1624X – Media Specifications
Max. Media Width – 1625 mm (63,97")
Max. Print Width – 1615 mm (63,58")
Max. Media Thickness – 0.3 / 1.3 mm *
* : Max. media thickness is specified per head height
Media Measurements * – Ø 150 mm / 2" & 3" / 30 kg
* : Standard non-motorised roll-off system
Media Drying System – Individually & intelligently* controlled pre-heater, fixer & dryer (30 – 50 °C)
* : Slowest heaters starts first taking into account all target temperatures
ValueJet 1624X – Performance
High Quality (720 x 1440 – 8 p) – 5.0 m²/h
Quality (720 x 1080 – 6 p) – 7.5 m²/h
Quality Production (720 x 1080 – 6 p) – 10.0 m²/h
Production (720 x 720 – 4 p) – 14.5 m²/h
Speed Production (720 x 720 – 4 p) – 20.5 m²/h
Billboard (360 x 720 – 2 p) – 29.1 m²/h
ValueJet 1624X – Ink Specifications
Ink Type – Eco Ultra / UMS *
* : Prints made with Mutoh UMS inks on Grafityp GEF non pvc film have obtained an indoor air comfort certificate issued by Eurofins. The first European certificate for interior deco prints.
Ink Volume – 220 ml, 440 ml & 1000 ml * / 440 ml & 1000 ml *
* : 1000 ml ink bag requires optional adapter
Ink Colours – CMYK
Ink Consumption * – 8 ml / m² * : Average ink consumption at @720 dpi – coverage of 67 %
UV durability—without lamination – 3 years outdoor *
* : For heavy duty applications where mechanical stress is involved, lamination is required. Stabilisation is required prior to lamination.
ValueJet 1624X – Power Consumption
During Printing – < 600 W
In Stand-by – 45 W
Warming Up – ≤ 1100 W (main) & ≤ 1200 W (heat)
Power Supply – AC 100-120 V / AC 200-240 – 60/50 Hz
ValueJet 1624X – Recommended Working Environment
Temperature – 22 °C – 30 °C with Δt: max. 2 °C/h
Humidity – 40 % – 60 % (no condensation) with ΔRH: max. 5 % RH/h
ValueJet 1624X – Machine Measurements
Width x Depth x Height – 2698 x 885 x 1261 mm
Weight – 160 kg
For further information & price estimates