A 1625mm/64" wide, versatile rigid & roll-to-roll large format printer with MUTOH's Bio-based Multi-Purpose ink (MP11 ink).
The VJ-1617H hybrid printer delivers high quality prints on a wide variety of roll and rigid media, such as ABS, aluminium sandwich board, cardboard, non-pvc self-adhesive media, PE, PET, PMMA, PP, PVC foam board, recyclable fibre-based paper, uncoated polyester, uncoated Tyvek, etc.
The VJ-1617H utilizes MUTOH's Bio-based Multi-Purpose ink (MP11 ink). The MP11 CMYK + White inks are non-petrochemical based. The key carrier, comprising 50 % of the ink, is derived from corn.
The MP Ink does not only give you high performance on rigid media, it also prints beautifully on roll surfaces with an exceptionally wide color gamut.
The VJ-1617H is designed for start-up companies as well as established print businesses wanting short-run production of roll prints and panel creation for close viewing distances. It is a versatile, economic option that reduces the impact on the environment.
The VJ-1617H is the obvious choice for print providers who supply customers demanding "green output" (recyclable media).
Features:
-1625mm/64″ hybrid printer
-MUTOH's Bio-based Multi-Purpose ink (MP11 ink)
-CMYK + White ink capability
-White ink circulation system integrated
-Variable Dot Technology
-Hot air brower system
-Automatic media thickness measurement & head height adjustment up to 15mm
-Roller pressure controlled manually with a simple lever
-Rigid front and rear tables(option)
-Optional take-up system (up to 30kg)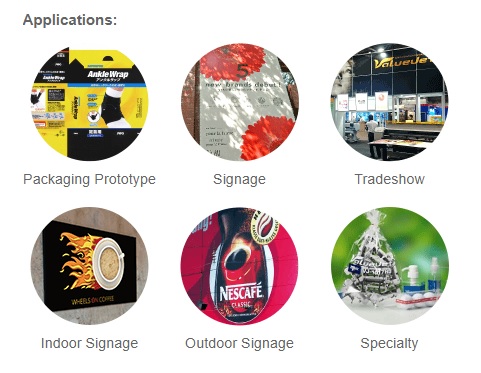 For further information & price estimates