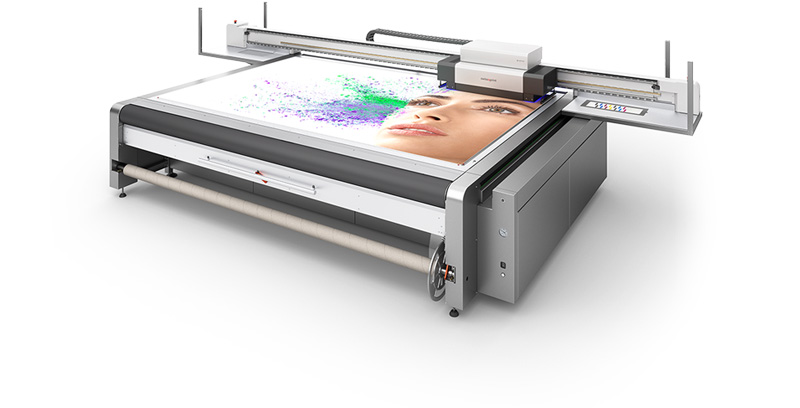 Nyala LED is an imposing machine, so its economy and quietness may come as a surprise. Especially for such a capable printer: the 3.2×2 metre flatbed can take on board any commonplace format and handle virtually any type of material – even heat-sensitive ones. And it turns out convincing results even at the top speed of 206 m²/h. It's not for nothing that Nyala LED is our new, environmentally friendly flagship model.
Extensive material diversity, hassle-free operation
Thanks to LED curing, trouble with heat-sensitive substrates belongs to the past. Because the lamps literally keep a cool head, even while the printer is at its busiest. So you can calmly draw on your repertoire of materials and amaze customers with new tricks. And by the way, these lamps are ready to go at any moment. Warm-up and cooling won't waste you a second, thus maximising availability of your large format printer.
Small footprint, huge performance
Compare Nyala LED performance with its power needs and you get a surprise. Compared to its already economical Nyala 2 counterpart, this one draws only half as much electricity. And a second welcome fact: the LED lamps last as long as the UV printer itself. They will neither lose power over time, nor need replacement at some point in the future. That eliminates not only the need for spare parts with their associated costs, but also harmful waste.
Pleasant working, high quality
There's a hushed atmosphere around a Nyala LED as the pumps and other units are all whisper-quiet in operation. The versatile printer's ease and efficiency of use are just as gentle on the nerves, with ample practical assistance on hand for the operator. A warning is appropriate here: working with Nyala LED can result in happiness and pride.
Less heat build-up makes it a pleasure to print difficult media such as
Textiles
Delicate films
Corrugated board
Paper
Key figures
3.2×2 m flatbed
206 m²/h maximum productivity
9 freely configurable colour channels
For further information & price estimates