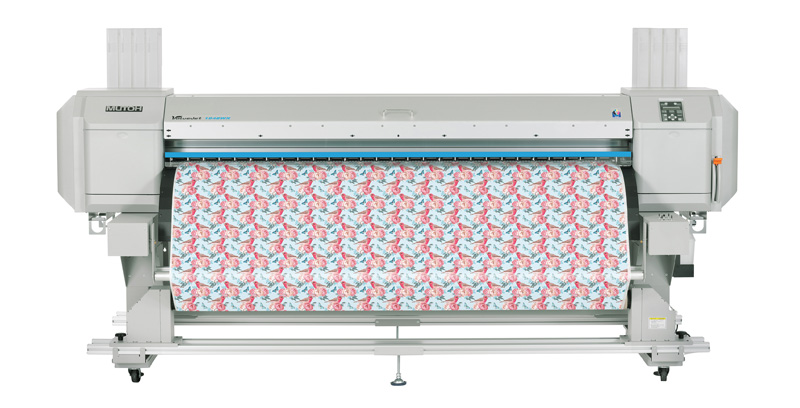 Product Overview
Transfer sublimation printing up to 1910 mm (75.19")
Typical production speeds between 67 & 125 m²/h
Staggered head setup with 4 latest generation 1440 nozzle print heads
Incorporated heaters to remove moisture from the output
Easy configurable pressure rollers with integrated disable function
Minimum waste thanks to individual head cleaning possibility
Environmentally friendly printing – high level of operator safety
Mutoh water-based dye sublimation inks
The robust & industrial ValueJet 1948WX (1910 mm – 75.19") dye sublimation printer will be a top choice for production oriented customers and businesses looking for a high quality volume printer for intensive use.
Ideal for established businesses looking for a high volume production printer, the compact & surprisingly user-friendly ValueJet 1948WX is suited for your high-end roll-to-roll sublimation needs.
The printer will deliver a top speed up to 194 m²/h.
4 Variable Drop 8 Channel Print Heads
The ValueJet 1948WX model features 4 variable drop 8 channel print heads mounted in a staggered configuration, allowing a complete range of output resolutions between 360 x 360 dpi and 1440 x 1440 dpi.
The integrated print heads are capable of producing ink drops ranging from 3.3 pl to 45.3 pl. Bottom line, they can produce a wider range of ink dots, which are moreover jetted at a much faster speed compared to other print heads on the market. The result is faster output speeds and moreover a much better print quality at higher output speeds.
Water-based Transfer Sublimation Inks
Mutoh water-based transfer sublimation inks, available in 1 liter bottles, offer excellent nozzle stability for high speed and high volume printing and will produce perfect image sharpness and definition. Suited for sublimation transfer paper of different weights as well as for direct printing onto polyester or mixed fibres with a high PES content, Mutoh sublimation inks offer a wide gamut with bright and vibrant colours and furthermore give you comfortable light, washing and perspiration fastness properties.
Stunning Performance
The ValueJet 1948WX printer offers you a wide range of print modes and speeds. The overview below lists the most popular ones.
• Fine (720 x 1080 dpi 12p) : 23 m²/h
• High Quality (360 x 1080 dpi 6p) : 47 m²/h
• Quality Production (720 x 720 dpi 4p) : 67 m²/h
• Production (360 x 1080 dpi 3p ) : 88 m²/h
• Speed Production (360 x 720 dpi 2p) : 125 m²/h
Maximize your Profit with Mutoh Intelligent Interweaving (i²) Print Technology
The ValueJet 1948WX incorporates Mutoh's award-winning Intelligent Interweaving (i²) print technology, enabling a drastic reduction or even total elimination of the typical difficulties inherent to conventional digital inkjet printing, such as horizontal banding, step mismatch banding and the visible effects of missing or misfiring nozzles.
One of the biggest benefits of this proprietary Mutoh print technology is that it offers predictable and repeatable output quality, therefore bringing an unprecedented level of ease of use to the printer operator. ValueJet printer users will be able to print ideal quality images fit for purpose every time, in the shortest possible time.
Digital Transfer and Direct Printing
Ideally suited for both digital transfer and direct printing on polyester-based fabrics, the VJ-1948WX will be a top choice for production oriented customers! The machine supports all typical dye sublimation transfer paper weights (from 57 g/m² to 150 g/m²).
Media Handling
The ValueJet 1948WX printer can handle 2" and 3" rolls. The printer comes with a stand with integrated roll holders. Different motorised winding/unwinding systems are available for roll-to-roll production.
Grow your business with high volume dye sub applications such as high quality sportswear, in-store & personalised home textile decoration and deco fabrics, fashion, soft signage, textile banners, sports equipment and solid object decoration (ceramic, metal, wood).

ValueJet 1948WX – Technical Key Specifications
Print Technology – Drop-on-demand Micro Piezo Inkjet Technology
Print Head – 4 (staggered setup)
Nozzle Configuration – 180 nozzles x 8 lines / head
Drop Mass Range (pl) – 3.3 to 45.3
Head Heights – Low: 1.5 mm / Middle : 2.5 mm / High: 4.0 mm
ValueJet 1948WX – Media Specifications
Max. Media Width – 1910 mm (75,19")
Max. Print Width – 1900 mm (74,80")
Max. Media Thickness – 0.3 / 1.3 / 2.8 mm *
* : Max. media thickness is specified per head height
Media Measurements * – Ø 150 mm / 2" & 3" / 30 kg
* : Standard non-motorised roll-off system
ValueJet 1948WX – Performance
Super Fine (720 x 1080 dpi 12p uni*) – 11.5 m²/h
Fine (720 x 1080 dpi 12p bi*) – 23.0 m²/h
High Quality (360 x 1080 dpi 6p bi*) – 47.0 m²/h
Quality Production (720 x 720 dpi 4p bi*) – 67.0 m²/h
Production (360 x 1080 dpi 3p bi*) – 88.0 m²/h
Speed Production (360 x 720 dpi 2p bi*) – 125.0 m²/h
Max. Speed (360 x 360 dpi 1p bi*) – 194.0 m²/h
* : uni : heads print as the carriage moves in one direction / bi : heads print as the carriage moves in both directions
ValueJet 1948WX – Ink Specifications
Ink Type – Water-based Transfer Sublimation Inks
Features – Suited for sublimation transfer paper of different weights as well as for direct printing onto closed polyester or mixed fibres with a high PES content
Ink Volume – 1948WX is compatible with 1 liter bottles
Typical Ink Consumption – < 5 ml/m² on transfer paper
ValueJet 1948WX – Power Consumption
During Printing Heaters Off – < 600 W
During Printing Heaters On – < 2840 W
Power Supply – AC 100-120 V / AC 200-240 – 60/50 Hz
ValueJet 1948WX – Recommended Working Environment
Temperature – 22 °C – 30 °C with Δt: max. 2 °C/h
Humidity – 40% – 60 % (no condensation) with ΔRH: max. 5% RH/h
ValueJet 1948WX – Machine Measurements
Width x Depth x Height – 2983 x 996 x 1261 mm
Weight Desktop / Stand – 201 kg
For further information & price estimates