Roth + Weber Eco Print i6
 8 A1/Min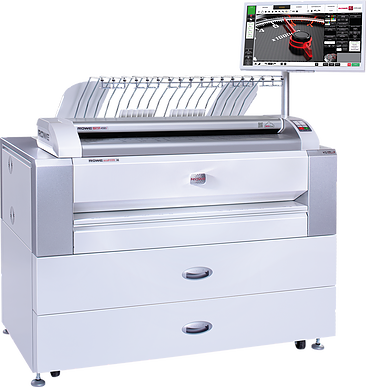 The Roth + Weber Eco Print i6  is one of the best monochrome plotter, designed for a mid volume customer. The customer is typically is an SME who has to do prints quickly for submission and internal printing requirements. The small footprint of the machine allows it to fit in easily within their print corner and affords top productivity, low downtime and a quality built machine.
The Ecoprint i6 comes along with a number of features which makes it easier for customers to load paper, handle batch printing and an intuitive interface that makes printing a breeze. There are many reasons why we find this to be one of the best monochrome plotter machines available. Its well built rugged and resilient, its made from steel instead of aluminium ensuring that this plotter is a part of your fleet for a long time to come, hence invest in a German made machine and enjoy one the best monochrome plotter the market has to offer.
Easy To Load Rolls: Drop In System
Nobody likes changing rolls in their printer, it is a difficult process that is made worse by the weight of the paper rolls itself. It is for this reason that the Roth+Weber was the first to introduce the drop in rolls system, making loading and unloading a breeze.
Top Notch Scanning: Fast, Safe and Efficient
Most customer's often overlook the quality of the scanner which is on their multi-function device, however, it is one of the most important components in this highly digitized age. Documents which have been marked need to be scanned and a proper record kept. The scanner which is on board the eco print allows for this to be a reality.
Automatic width detection; allows for on the fly detection without having the document going back and forth.
USB 3.0; 1000% increase in data throughput making it a supremely fast and efficient scanning solution
Immediately operational: no waiting time scan and copy from the get-go
After scan correction: made a mistake with scanning? no problem edit the file without rescanning with this machine.
Dynamic Stitching: often with scanners, errors in stitching occur, therefore Rowe scanners are equipped with a dynamic stitching which corrects errors in lines on the fly. This is a patented technology only found in Rowe scanners.
Space Saving: Pushed Flushed To The Wall
The Roth+Weber machine can firstly be pushed flush to the wall, in addition, it has a very space-saving top delivery tray making it easy to retrieve documents on the go!
Pressed In Toner: Consistent Black & White Reproduction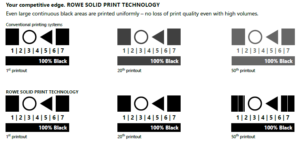 One issue that comes up most with customers who have used previous models of laser machines from other manufacturers, is that the toner printout does not remain consistent as the number of prints increase. This is the main key difference is the solid print technology, whereby the toner is pressed by two heated rollers onto the paper surface.
Achieves consistent solid black printouts even though more and more prints increase.
Folding resistant, usually when you fold a monochrome drawing especially on the hatching it causes a very bad folding line because the toner breaks. This is not seen with the Rowe machine.
Connected: Web Connected For Seamless Integration
ROWE web connect app always accessible no matter where.The intelligent Web app for ROWE eco print.
Print, scan and copy from anywhere in the world
Simple, uncomplicated operation via your browser
No special software installation needed
ROWE WEB CONNECT APP means you always have access to your large format printer from anywhere in the world, simply, via your PC. Start your print order e.g. from Berlin whilst your ROWE ecoPrint is standing in New York or Sydney. You can directly call up status or media information. This operation is simple and self-explanatory. Expensive installation of other software isn't necessary.
Less heat build-up makes it a pleasure to print difficult media such as
Paper: plain paper, transparent paper, recycled paper, fluorescent paper, colored paper and vellum; Film: film, polyester
Scan width 36" (927 mm), optical resolution 2400 x 1200 dpi, ROWE ScanMatrix+, color depth 48 bit color, 16 bit grayscale, SuperSpeed USB 3.0 + RES, scanning speed up to 17 m/min (11.15 in/s), scan length not limited by scanner, ROWE SELECTED TRUE LIGHT, ROWE DYNAMIC STITCHING – RDS (patented), ROWE PRO LOGIC, ROWE SAFE DRIVE (patented),automatic width recognition
"On the fly" (patented), dynamic width recognition (patented), DOCUMENT IMPROVEMENT SYSTEM (DIS)
Perfect for the office environment with its whisper quite operation and low energy use
Great for printing plan drawings easily and efficiently
Watch this details product overview for the Roth + Weber Series of Plotters
For further information & price estimates, we are excited to share with you more about one of the best monochrome plotter available