HP PageWide XL 5200 Multi-function large-format printer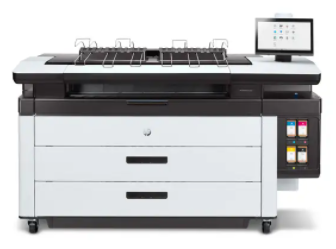 Instant delivery of mono and color printouts
Respond right away with print speeds up to 20 D/A1 pages/min. Produce reliable technical prints with vivid color, crisp lines, and fine detail that beat LED. Gain productivity—one device delivers mixed sizes/paper types 50% of the time.
Enhanced workflows, added efficiency, and security
Easily operate from the front and back with the market's largest 15-inch touchscreen. Save time with HP SmartStream. Scan on the fly, gain live scan preview/contextual post-editing. Protect your network with the world's most secure printer.
Help cut production costs up to 30%
Print, scan and copy in monochrome and color with a single HP-branded solution. Gain broad control over your printing costs and see up to 10 times lower energy consumption than comparable LED printers. Eco-Carton replaces plastic cartridges.
Grow into new short-term posters with the fastest large-format printer
 20 A1/min.
Up to 4 rolls.
Using Pigment-based inks so no smudging and water resistance.
Lowest energy consumption ever
The main application suitable for this machine is primarily the reproduction of Reprographic drawings.
Print out CAD Lines in mono and color without any drop in speed.
GIS and Maps with incredible speeds and accuracy
Archive a shorter turnaround time for your printouts and drawings
Print out on other media such as coated media, PP paper, stickers and more.
The Full Technical Data Sheet Is Available Below here:
For further information & price estimates