HP DesignJet XL 3600 36-in Multifunction Printer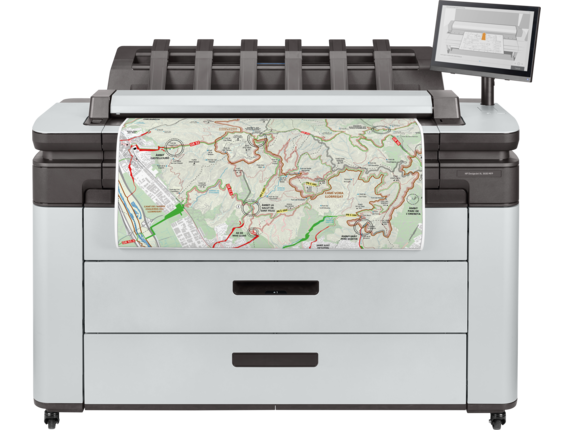 With the fastest first page out, there's no more waiting at the printer. Compact to fit your office, and robust to meet everyone's demands, this MFP also provides the best network protection.
Dynamic security enabled printer. Only intended to be used with cartridges using an HP original chip. Cartridges using a non-HP chip may not work, and those that work today may not work in the future.
IMMEDIATE RESULTS—Fastest first page out
Don't wait in front of your printer with the fastest first page out, in just 29 seconds.
Free up your time with radically simple and fast batch PDF printing using HP Click software.
Quickly access your personal and group folders from the touchscreen, so you can print and share right away.
A NEW STANDARD—Experience extreme reliability
Built with the most robust design for demanding environments.
Best fit for your office with up to 30% smaller footprint and the most quiet operation.
Flawless user experience thanks to automatic media loading and print stacking up to 100 pages.
SECURE—World's most secure large-format printer
Rely on the best network protection with features like HP Secure Boot and whitelisting.
Control who accesses the printer and its confidential documents with secure user authentication.
Keep your fleet secure at any time with HP JetAdvantage Security Manager.
The main application suitable for this machine is primarily the reproduction of Reprographic drawings.
Print out CAD Lines, GIS and Maps with incredible speeds and accuracy
Print out high-quality photographs, renders and vibrant posters.
Great for high volume print service providers and enterprise customers that require both a fast cad printer and high quality renders
The Full Technical Data Sheet Is Available Below here:
For further information & price estimates