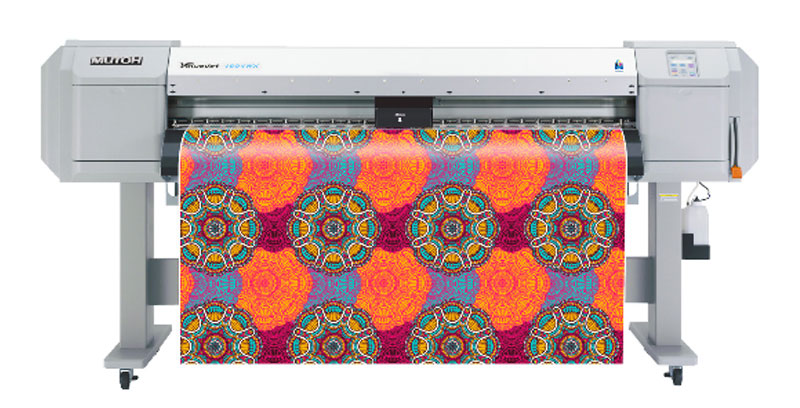 Product Overview
Transfer sublimation printing up to 1625 mm (63.97")
Quality production speeds up to 22 m²/h
Mutoh water-based dye sublimation inks
Ideal for production of soft signage, sportswear, gadgets, …
Environmentally friendly printing – high level of operator safety
Economical – low ink consumption
Rapid return on investment / Value for money!
Ideal for start-ups and established businesses looking for a wider printer, the compact & surprisingly budget friendly ValueJet 1604WX (1625 mm – 64") is ideally suited for your daily sublimation needs. The printer will deliver quality production speeds up to 22 m²/h at 360 x 1080 dpi – 3 pass !
You don't need to be an expert to run the VJ-1604WX printer, as it is very easy to operate and maintain. The ValueJet 1604WX will deliver constant quality for volume production runs as well as short print runs.
The VJ-1604WX model features a variable drop 8 channel print head, allowing output resolutions up to 1440 x 1440 dpi.
The Printer's Heart Beats Quality
A variable drop piezo print head is at the heart of the VJ-1604WX's stunning performance. This 1440-nozzle head comprises four colour sections. Each colour section has 360 nozzles, or two 180 nozzle rows per colour. Because all colour sections are united in one head, there is no need for time-consuming head-to-head calibration routines. The print head is capable of producing ink drops ranging from 3.5 pl to 21 pl.
Ammo Dye Based Inks / Dye Sublimation Inks
We offer two types of ink systems on the range of indoor printers available. The first is the dye based inks, which consist of cmyk and are designed to produce high quality vibrat photos that will certainly create an impactful message. Our inks are extremely affordable working out to be only a few cents per sqm. The second type of ink we have is the Dye Sublimation inks, which are primarily designed to be used with a transfer equipment. The inks produce the right density to allow for a vibrant and rich color outputs. When you use our inks you not only get a peace of mind but you have our support with the care of your machine.
Stunning Performance
The ValueJet 1604WX printer offers you a wide range of print modes and speeds. The overview below lists the most popular ones.
Quality – 720×720 dpi: 14 m²/h
Production – 360×1080 dpi: 16 m²/h
Speed Production – 360×1080 dpi: 22 m²/h
Maximize your Profit with Mutoh Intelligent Interweaving (i²) Print Technology
The Mutoh ValueJet 1604WX incorporates Mutoh's award-winning Intelligent Interweaving (i²) print technology, enabling a drastic reduction or even total elimination of the typical difficulties inherent to conventional digital inkjet printing, such as horizontal banding, step mismatch banding and the visible effects of missing or misfiring nozzles.
One of the biggest benefits of this proprietary Mutoh print technology is that it offers predictable and repeatable output quality, therefore bringing an unprecedented level of user comfort to the printer operator. ValueJet printer users will be able to print ideal quality images fit for purpose every time, in the shortest possible time.
Media Handling
The ValueJet 1604WX printer can handle 2" and 3" rolls. The printer comes with a stand with integrated roll holders. Different motorised winding/unwinding systems are available for roll-to-roll production.
Application Possibilities
Explore new revenue opportunities such as high quality in-store textile decoration and displays, textile banners, pop-ups, sportswear, personalised home decoration, gadgets, transfer to rigid objects, shirts and many more with Mutoh's budget dye sub printer.
Fast Return on Investment
Rapid return on investment is available to beginners as well as skilled operators. The combination of affordable pricing, ease of use with consistent high quality output, hardly any periodic maintenance required, flexibility for switching quickly between print jobs and low ink consumption (average < 5 ml/m² on transfer paper) means the ValueJet 1604WX will swiftly turn investment into profit.
Explore new revenue opportunities such as high quality in-store textile decoration and displays, textile banners, pop-ups, sportswear, personalised home decoration, gadgets, transfer to rigid objects, shirts and many more
ValueJet 1604WX – Technical Key Specifications
Print Technology – Drop-on-demand Micro Piezo Inkjet Technology
Print Head – 1
Nozzle Configuration – 180 nozzles x 8 lines – 360 nozzles per colour
Drop Mass Range (pl) – 3.5 – 7 – 12.5 – 14 – 21
Head Heights – Low: 1.5 mm / High: 2.5 mm
ValueJet 1604WX – Media Specifications
Max. Media Width – 1625 mm (63,97")
Max. Print Width – 1615 mm (63,58")
Max. Media Thickness – 0.3 / 1.3 mm *
* : Max. media thickness is specified per head height
Media Measurements * – Ø 150 mm / 2" & 3" / 30 kg
* : Standard non-motorised roll-off system
Sheet Off Function – Integrated
Compatibility – Sublimation paper or closed non-stretch fabric
ValueJet 1604WX – Performance
High Quality (720 x 720 dpi – 8 p) – 7 m²/h
Quality (720 x 720 dpi – 4 p) – 14 m²/h
Production (360 x 1080 dpi – 3 p *) – 16 m²/h
Speed Production (360 x 1080 dpi – 3 p *) – 22 m²/h
Billboard (720 x 360 dpi 2 p) – 29 m²/h
* : Speed depends upon weaving (i²) settings
ValueJet 1604WX – Ink Specifications
Fabric Compatibility – Polyester and mixed fibre (min 80 % PES)
Ink Volume – 1000 ml bottle
Typical Ink Consumption – < 5ml/m² on transfer paper
Ink Colours – CMYK
ValueJet 1604WX – Power Consumption
During Printing – < 180 W
In Stand-by – 66 W
Power Off – < 2.2 W
Power Supply – AC 100-120 V / AC 200-240 – 60/50 Hz
ValueJet 1604WX – Recommended Working Environment
Temperature – 22 °C – 30 °C with Δt: max. 2 °C/h
Humidity – 40 % – 60 % (no condensation) with ?RH: max. 5 % RH/h
ValueJet 1604WX – Machine Measurements
Width x Depth x Height – 2698 x 885 x 1261 mm
Weight Desktop / Stand – 155 kg
For further information & price estimates