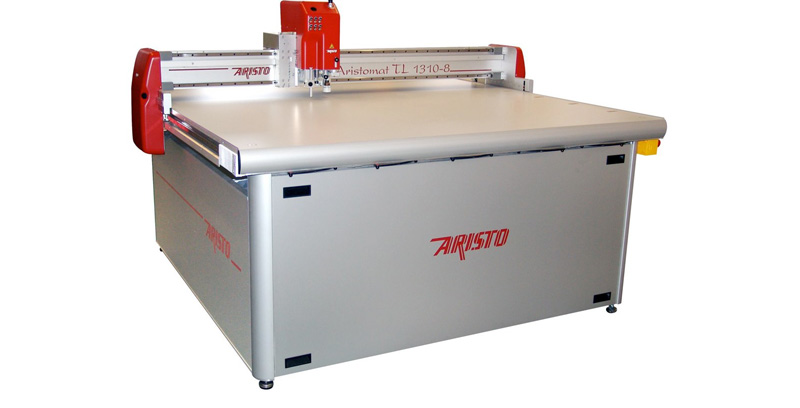 ARISTOMAT TL series : With the ARISTOMAT TL- High Speed Cutters, ARISTO presents a completely new generation of flat bed plotters. Clear-cut design, work surface easily accessible from all sides, extremely robust traverse bridge, the most modern drive- and steering technologies, non-slip drive, most efficient matrix-vacuum and easy user guidance with the PC-Software ARISTO CutterControlPanel are the outstanding characteristics.
Essential functions such as manual control or setting of origin can be carried out from any point of the cutter by means of a mobile control pad.
ARISTOMAT TL-Cutters are sturdy and robust in construction and precise and reliable in their work. These machines, designed for continuous production, cut quickly and reliably most varied materials and have proved themselves. The ARISOMAT TL-Cutter is the ideal tool for cutting e.g. gaskets, rubber, laminates, solid fiber- and corrugated cardboard.
Additionally for automatic processing, the Cutter can be complemented with a conveyor and a winding system.
Precision as tradition ARISTO®
was founded in 1862 as a factory for mathematical and surveying instruments. Since then quality, precision and reliability have always played roles for us. It was not long before the company made a worldwide name for itself as a supplier of precise slide rules and drawing aids. Today we are considered to be the leading German manufacturer for large format, computer controlled flatbed cutting machines named ARISTOMAT®.
Precision engineering is our passion For over 150 years, all of our knowledge and expertise has been flowing into the manufacture of precision engineered masterpieces. This can be seen by our ARISTOMAT® cutters and their cutting results.
Hamburg innovations for the world Good tools must be continually customised to meet new requirements. Therefore, at ARISTO® we invest strongly in our own research and development. Thanks to our know-how and applications engineering, we solve your cutting requests. International patents and awards document our achievements in the innovation sector.
Quality at the highest level Customers worldwide appreciate the reliability of our ARISTOMAT® cutting systems. Precision engineering without pronounced quality thinking is not possible; we do not just rely on our quality seal 'Made in Germany'. The spirit of total quality management is alive throughout our whole team. Only in this way are we able to deliver remarkable performance and can guarantee the high ARISTO® quality permanently
All under remote controlWith the intuitive operable ARISTO® CutterControlPanel-Software (CCP), which is available in many languages, the ARISTOMAT® cutters are controlled by PC. Our interactive database ARISTO® CutRecall stores all process parameters.
Well built In order for ARISTOMAT® cutters to be durable and light, we construct them as a vibration-reducing sandwich structure, also used in the aircraft industry. For this we connect layers of aluminium to a honeycomb core. This lightweight construction also reduces your operational costs: less moved mass results in lower power consumption.
Own manufacture All ARISTOMAT® cutters are manufactured in our Hamburg factory. As a result we have direct access to the quality and performance of all components and keep our know-how within the premises. This way we secure the long-term availability and possibility for repairs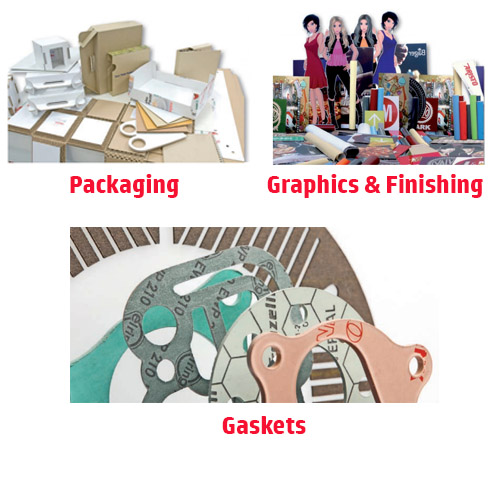 Available sizes (mm)
Width – 1300 / 1600 / 1900
Length – 1000 / 1700 / 2500
For further information & price estimates