Perfactory 4 Standard LED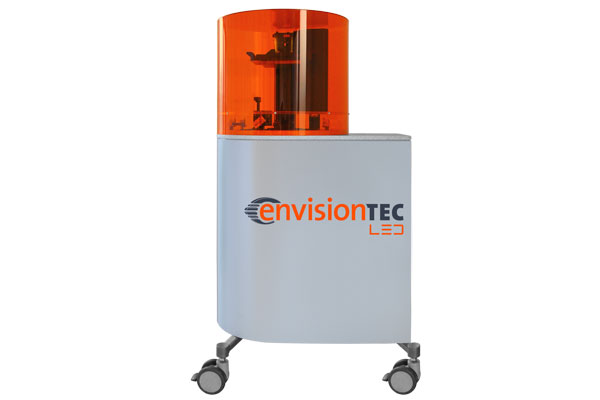 EnvisionTEC's Perfactory 4 Standard LED Series is a low cost, easy maintenance, and user-friendly 3D rapid prototype manufacturing system. Using state-of-the-art Direct Light Projection technology from Texas Instruments®, the P4 Standard Series produces the finest detail in the shortest period of time, creating 3D models that range from the conceptual to the fully functional.
The Perfactory 4 Standard LED Series also uses a custom LED light system. This new LED system is more powerful and efficient than other light projector systems on the market. As such, it offers a variety of benefits, such as lower operating costs and crisper black-white contrast between pixels, which means even better final part detail.
With this product enhancement, the Perfactory 4 Standard LED, offering the highest accuracy and best resolution in the vat polymerization market, now also includes the most powerful and cost-efficient light source.
LED outperforms the original P4 UHP light source in cost savings and has an estimated life expectancy of 10,000 hours
Economic material use
Minimized components make the system user serviceable
Low acquisition costs
Delivered and installed with all relevant software to enable automatic support generation and perfect model production
Material changeover can be done quickly and easily
Prototype and end-use model printing
Easily cast any injection wax pattern.
For direct investment casting of products for the jewelry market
Direct investment casting for the Jewelry market
Build Envelope – 192 x 120 x 180 or 230 mm (7.6 x 4.7 x 7.09 or 9.06 in.)
XY Resolution – 100 µm (0.0039 in.)
Dynamic Voxel Resolution in Z (material dependent) – 0.0010" (25 µm) to 0.0059" (150 µm)
Projector Resolution – 1920 x 1200 Pixels
Native Voxel Size – 100 µm (0.0039 in.)
Voxel Size With Optional Enhanced Resolution Module – 50 µm (0.0020 in.)
Data Handling – STL
For further information & price estimates