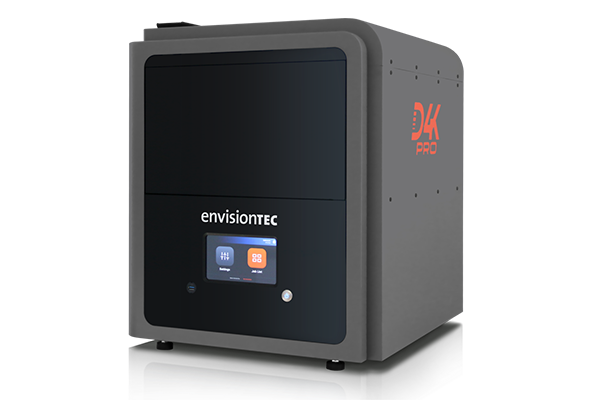 Introducing the D4K Pro, the highest resolution professional-grade desktop 3D printer. In addition to having the fastest speed for a standard DLP printer, D4K Pro from EnvisionTEC delivers extremely accurate parts with the finest detail available.
The D4K Pro is compatible with all EnvisionTEC DLP resins, including options suitable for end-use applications. The D4K Pro is built on the most reliable 4K UV DLP projector and includes EnvisionTEC's patented PSA for low separation forces. Brought to you by the original inventors of DLP 3D printing technology.
EnvisionTEC has been leading the way for jewelry 3D printing since 2003, with its best-selling 3D printers being utilized in hundreds of manufacturing operations globally.
Open material access license available
Intelligent closed-loop minimal peeling forces
Remote monitoring and job starting capabilities
Industrial-grade UV LED projector for reliability and consistency
Designed to run 24/7 in a production environment
Material changeover can be done quickly and easily in minutes
Includes user-friendly Envision One RP software for fast and easy preparation of models, automatic support generation, and a fully integrated Mesh Healing too
Build Envelope: 148 x 83 x 110 mm (5.8 x 3.3 x 4.3 in.)
XY Native Resolution: 50 µm
Patented Enhanced XY Resolution: 25 µm
Dynamic Layer Thickness (Material Dependent): 15 – 150 µm
UI and Connectivity: Touch Screen / Ethernet, USB
Footprint: 50 x 57 x 59 cm (19.7 x 22.4 x 23.2 in.)
Electrical Requirements: 100-240V AC, 1.5A, 50Hz/60Hz
For further information & price estimates